NORWAY YOGA RETREAT: YOGA & HIKING IN THE FJORDS
EXPLORE: NORWAY YOGA AND ADVENTURE RETREAT
As this retreat is very popular and takes place only once a year, we recommend registering early. 
Update: we currently have last few rooms available for upcoming retreat in July 2019  .
Norway will steal a piece of your heart and take away your breath with its majestic magnificence. This Norway yoga adventure retreat is a very special journey that combines a nature exploration with a yoga and meditation experience.
The stunning fjord where we're staying during this yoga hiking retreat is breathing with peaceful, grounded, enchanting energy. Resting in their splendour, the mountains around the fjord are like giant guardians by the sea, providing a beautiful setting for our yoga and meditation journey as well as hikes and mountain explorations in between the yoga sessions.
Join us in this oasis of unspoilt Norwegian nature and let yourself be carried away into a mythic cradle of the Nordic spirits.
---
TEACHER
This yoga retreat is lead by Elena Mironov, the founder of Sparkling Yoga Retreats. Elena is a very experienced yoga and meditation teacher, with a strong background in both technical, therapeutic and energetic aspects of yoga and meditation, over 14 years of teaching experience and a background in psychology. Elena has lead over 80 international yoga retreats over the past 8 years. Read more about the teacher here.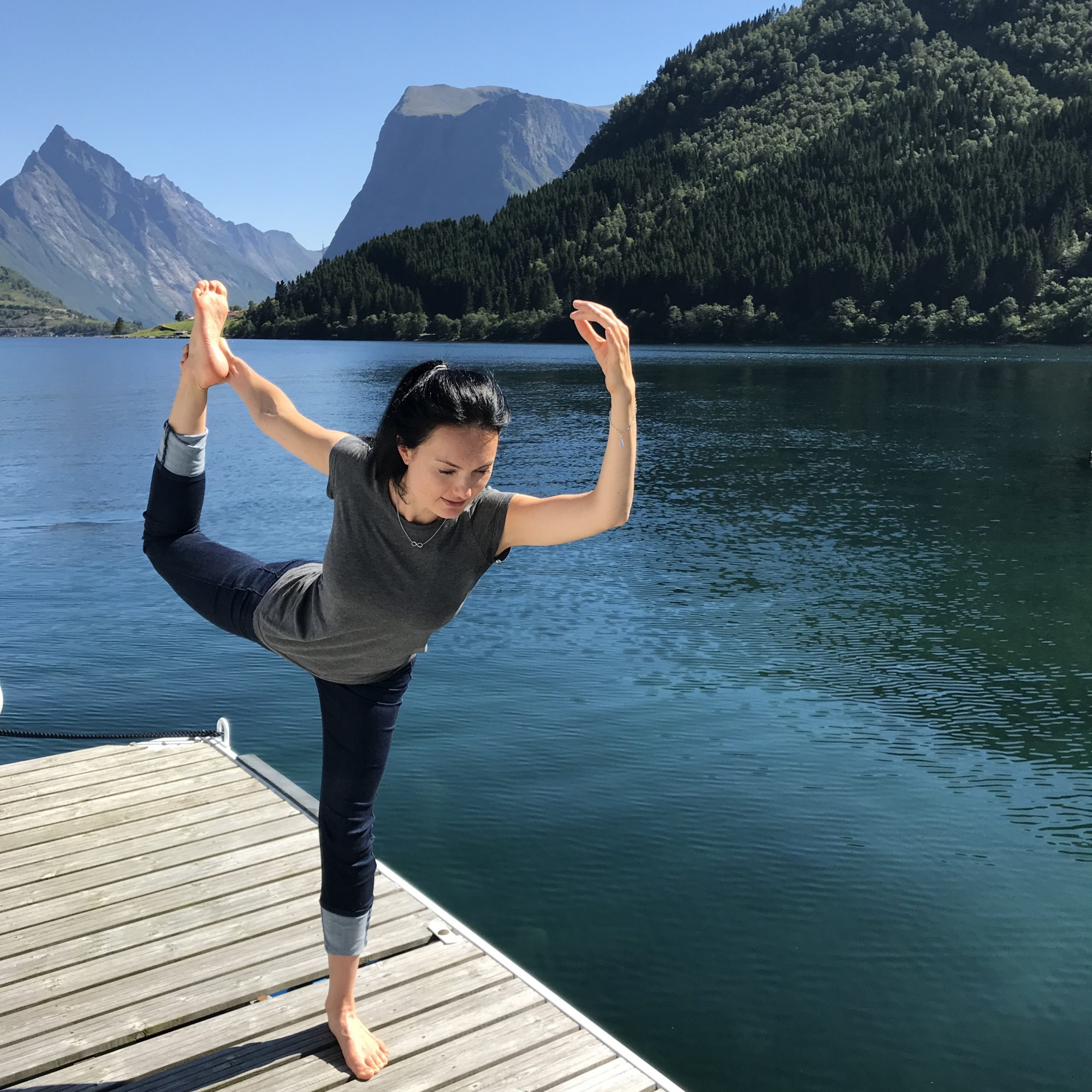 TYPICAL DAY
7.30-9.00 Morning yoga + meditation
9.00-10.00 Breakfast
10.00-17.00 Hiking in the mountains or in the forest, optional boat trip or walk around the fjords, kayaking or rest
17.00-18.30 or 17.00-19.00 Evening yoga
18.30-19.00 Optional meditation self-practice
19.00 Dinner
ACCOMMODATION
We are staying in a beautifully renovated hotel in the fjord in Ålesund region. The hotel is set amidst a beautiful unspoilt landscape just by the water, surrounded by mountains. The rooms are simple, comfortable and tasteful. Double/twin and single occupancy available.
WHAT IS INCLUDED
4-night/5-day stay at our beautiful hotel directly by the water
breakfasts, dinners and takeaway lunch packs
all yoga + meditation classes (two sessions per day)
the exclusive use of space for yoga sessions.
MEALS
Breakfasts, takeaway lunch packs and dinners are included. All meals are vegetarian and some fish options will be available throughout the retreat.
HIKING
There is a variety of trails just outside the hotel that we will be enjoying during this hiking retreat. There is a magnificent trail that starts just a short walk from the hotel, and we have maps available to support your explorations.
YOGA
This retreat is open to fit practitioners with yoga experience who enjoy an active yoga practice combined with outdoor adventures.
During this hatha yoga retreat, you will have an opportunity to experience a variety of approaches to hatha yoga, from elemental vinyasa flow to meditation, however the main style of yoga featured in this retreat, is vinyasa flow. Some of the sessions may include the elements of yin yoga, myofascial release, pranayama and meditation. A part of the programme is yoga nidra (yoga sleep) meditation which has an extremely restful and restorative effect. All sessions will be adapted to the group and modifications of the poses will be offered to cater for all participants and to ensure that everyone is receiving the benefits of the practice and the individualised attention.
Programme components of this yoga retreat
elemental vinyasa flow
alignment based hatha yoga
in-depth self-myofascial release technique
restorative flow
yin yoga
pranayama / breath work
seated meditation - guided and self-guided
restful yoga nidra (yoga sleep) meditation in savasana
This yoga retreat in the fjords is a perfect fit for intermediate and experienced practitioners. All sessions will be adapted to the group, and modifications of the poses will be offered to cater for all participants and to ensure that everyone is receiving the benefits of the practice and the individualised attention.
YOGA PROPS
For this particular yoga retreat you will be asked to bring your own yoga mat, a block and a few smaller props. You will receive the complete list of items to bring once your application has been approved.
WHEN TO ARRIVE
The best time to arrive would be Monday afternoon/evening as the programme starts after early dinner. The best time to depart is Friday noon/afternoon as the programme finishes around 11am on Friday.
GETTING THERE
The location is about 1.5 hours driving distance from Ålesund and a few smaller airports in the area. It can be accessed either by public transport (bus) or by car. Further instructions will be sent out upon registration.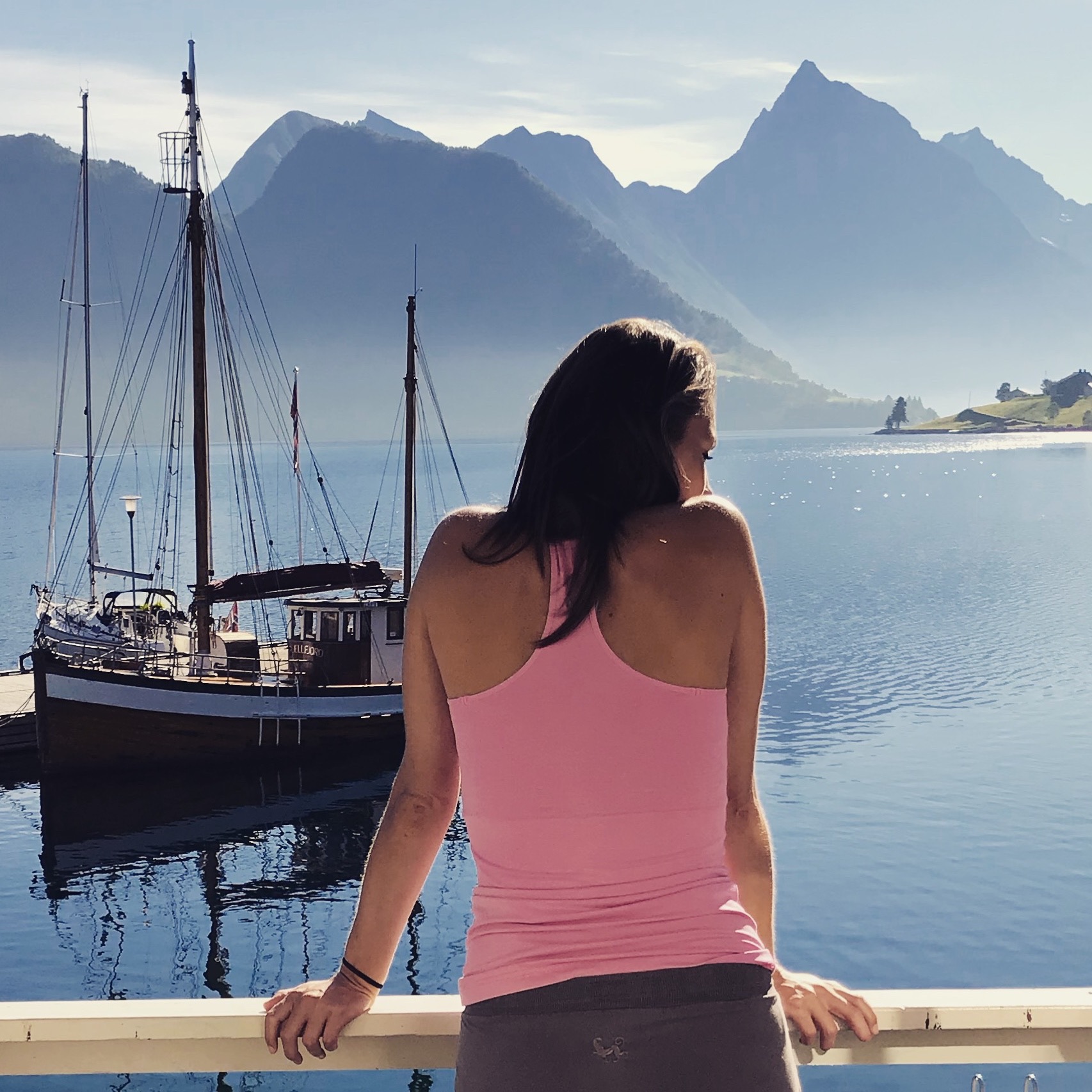 ARE YOU A PHOTOGRAPHER AND A YOGI?
We are always open to new collaborations, so let us know if you'd like to join the retreat and capture some beautiful moments!
TESTIMONIALS FROM PAST RETREATS IN THE NORWEGIAN FJORDS
Great lessons -- You have such a good aura and a wonderful sense of humor! There's a good mix between yoga and free time! Fantastic place, good food, wonderful nature!

Vielen herzlichen Dank für die wunderschöne Zeit. Ich gehe zufrieden & glücklich nach Hause. Ich bin motiviert weiterhin ganz fleissig Yoga zu üben!

Ich hoffe ich sehe dich bald wieder in Zürich oder vielleicht in einem anderen Retreat!
I loved the pace and attention to tailor program to the group - loved the added hands-on adjustments which will improve my practice at home. I enjoyed the quality of your teaching and unique locations. I felt spoilt in my second floor view overlooking the beautiful fjords.

I would not hesitate booking another retreat with Sparkling Yoga. I follow your CDs at home and enjoy your guidance and calming voice.
The good thing about the teacher was her voice and encouraging words. I enjoyed the hike, the boat trip.

Thank you so much Elena & Maria for giving so much of yourselves to helping me grow. I feel I am stronger and it is a journey I will continue to work on.

Thank you for being so open.
The teachers had wonderful adaptation to participant's needs. Could not imagine any better! Mind body balance was perfect. Keep going!
Both teachers were very clear, patient, well-paced - but firm! The natural environment was fantastic. The staff was very professional, food was excellent.
The teachers were creative, they encouraged, challenged, looked after. I enjoyed the physical practice. The staff was very helpful, room lovely! It's an eye opening experience, I made memories, learned a lot & had so much fun.

Vibes & energy created by the teachers, location, group & yoga was so positive... Finally having 2 teachers was very special, felt looked after and made practice very unique.

Full of gratitude.