NORWAY YOGA AND ADVENTURE RETREAT: EXPERIENCE OF A LIFETIME
EXPLORE: NORWAY YOGA AND ADVENTURE RETREAT
Registration for next Summer opens in August 2023. Get in touch to add your interest to the waiting list.
Have you ever dreamed of taking your yoga and meditation practice to the Norwegian fjords? I have. So a few years ago I set out for an "expedition" to the fjords to find an unforgettable location for a yoga retreat, away from the tourist crowds, in an area where Norwegians go hiking and exploring.
I found it - at least based on the fact that my Norwegian friends like to say with a chuckle: "You sure discovered the most magical spot in Norway!". Another testimony is that so many guests book this retreat year after year, which is the best compliment I can think of.
So yes, me and our "professional yoga retreaters" as I like to call them totally fell in love with this place...maybe it's your turn? 
---
ABOUT
Norway will steal a piece of your heart and take your breath away with its magnificence. I seriously can't think of a more breathtaking backdrop for a yoga retreat.
This Norway yoga adventure retreat is a very special journey that combines a nature exploration with a solid yoga and meditation programme.
The stunning fjord where we're staying during this yoga and hiking retreat is a peaceful and grounding sanctuary. It's a perfect place to reconnect with your practice, with yourself and with nordic nature.
The retreat hotel is located by the water's edge, right at the fjord and a tiny marina. It's surrounded by mountains and pristine Norwegian forest. The fjord offers a perfect setting for exploring your yoga and meditation practice as well as endless possibilities for hikes, kayaking and forest bathing, or shinrin yoku.
Join us in this oasis of unspoilt Norwegian nature and enjoy an adventure of a lifetime.
TEACHER
This yoga retreat is lead by me - Elena, the founder of Sparkling Yoga Retreats. I've been practicing yoga for over 20 years, and I've been teaching yoga for over 15. My background is in psychology, and besides teaching yoga, I lead teacher trainings, specialising in meditation courses for teachers. My work has been extensively covered in press, and I have 105+ retreats around the world to date. You can read about me here or meet me in person in Zurich where I organise sleep concerts and city retreats.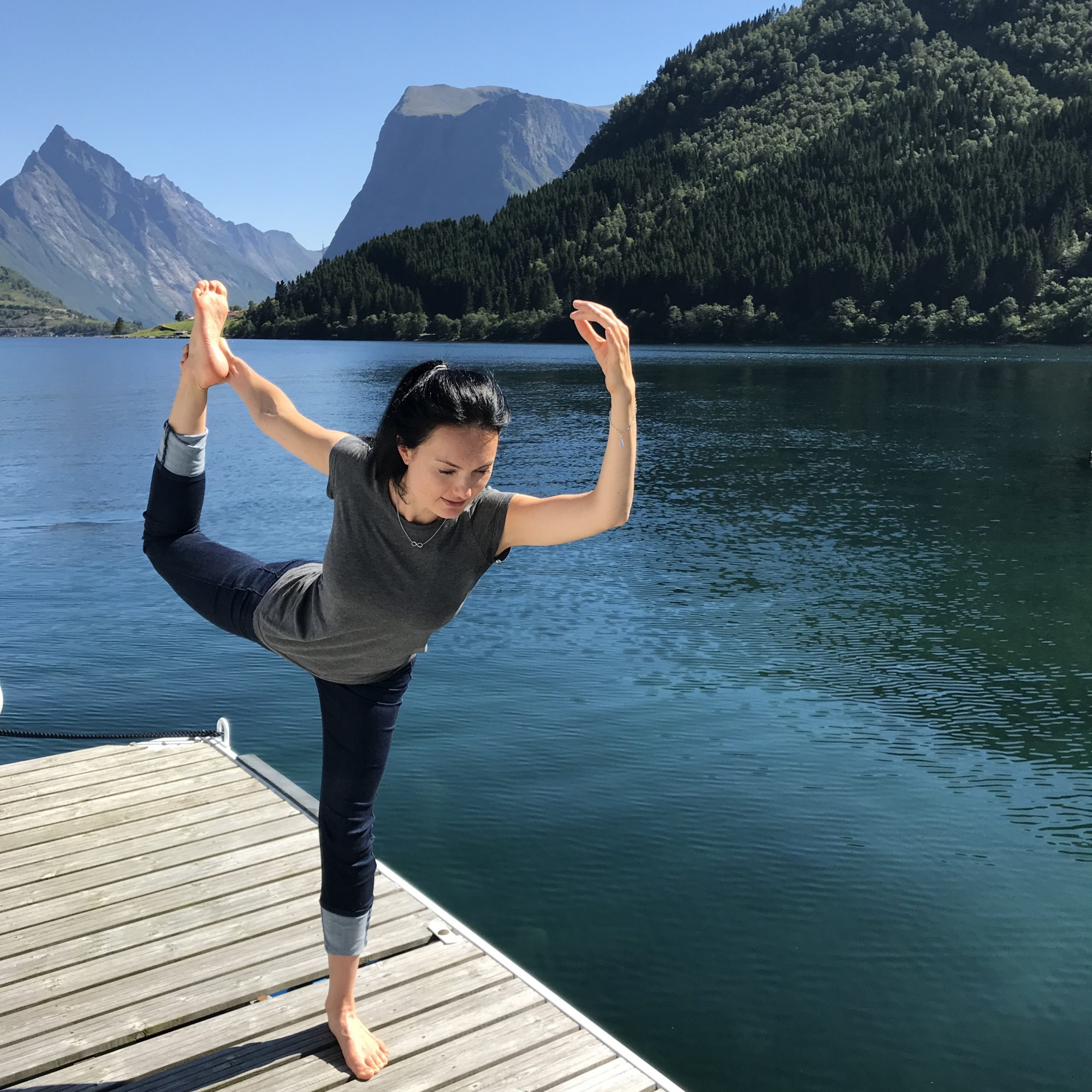 TYPICAL DAY
7.30-9.00 Morning yoga + meditation
9.00-10.00 Breakfast
10.00-17.00 Hiking in the mountains or in the forest, optional boat trip or walk around the fjords, kayaking or rest
17.00-18.30 or 17.00-19.00 Evening yoga
18.30-19.00 Optional meditation self-practice
19.00 Dinner
ACCOMMODATION
We are staying in a cosy hotel in the fjords that feels like home away from home. The surroundings of the hotel will make nature documentaries fade in comparison.
The rooms are simple, comfortable and tasteful. Double/twin and single occupancy available.
WHAT IS INCLUDED
a rich yoga + meditation programme featuring 2 x 1.5-2h classes daily
stay in a beautiful Nordic-style cosy and comfortable room, fjord or mountain suite or cottage
generous buffet breakfasts, takeaway lunches to fuel your outdoor adventures and delicious restaurant dinners
the exclusive use of yoga space with a fjord view for our group only
MEALS
Breakfasts, takeaway lunch packs and dinners are included. All meals are vegetarian and some fish options will be available throughout the retreat. Please notify me in advance about your preferences or intolerances so that we can prepare exactly what you like.
YOGA
Are you a fit yoga practitioner who enjoys being active - both on the yoga mat and out in the nature? If yes, this retreat is for you.
During this retreat, you will have an opportunity to experience a variety of approaches to hatha yoga, from elemental vinyasa flow to meditation, however the main style of yoga featured in this retreat, is vinyasa flow. All sessions will be adapted to the group and modifications of the poses will be offered to cater for all participants and to ensure that everyone is receiving the benefits of the practice and the individualised attention.
Programme components of this yoga retreat
elemental vinyasa flow
alignment based hatha yoga
in-depth self-myofascial release technique
restorative flow
yin yoga
pranayama / breath work
seated meditation - guided and self-guided
restful yoga nidra (yoga sleep) meditation in savasana
YOGA PROPS
Please note that to participate in this retreat, you will need to bring your own yoga mat, a block and a few smaller props. You will receive the complete list of items to bring once your application has been approved. If this is not possible, please let me know before you book so that I can try to come up with a solution.
WHEN TO ARRIVE
The best time to arrive would be Monday afternoon/evening as the programme starts after early dinner. If you're already in the area, you could also arrive earlier - just check with our hotel first to ensure your room is ready!
You could also plan to arrive one day before so you can ground and rest prior to the start of the retreat. Let us know about your preference before you book your flights so we can check availability.
The best time to depart is Friday noon/afternoon as the programme finishes around 11am on Friday.
GETTING THERE
The location is about 1.5 hours driving distance from Ålesund. It's a truly unforgettable scenic drive.
You could also take a cruise from Ålesund nearly to retreat hotel's door and explore the magnificent scenery of the fjords right from the day you land!
Another option is using one of the smaller airports in the area that might be an even better fit depending on where you are traveling from. Those smaller airports are very well connected to Oslo airport and there are multiple flights every day in Summer.
Further instructions will be sent out upon registration.
Please only make your travel arrangements after your room has been confirmed.
OPTIONAL ACTIVITIES
biking (a number of bikes is available at our retreat hotel)
kayaking
boat trip around the fjord
floating sauna right on the water in the fjord
world class hikes with or without a guide
shinrin yoku - "forest bathing"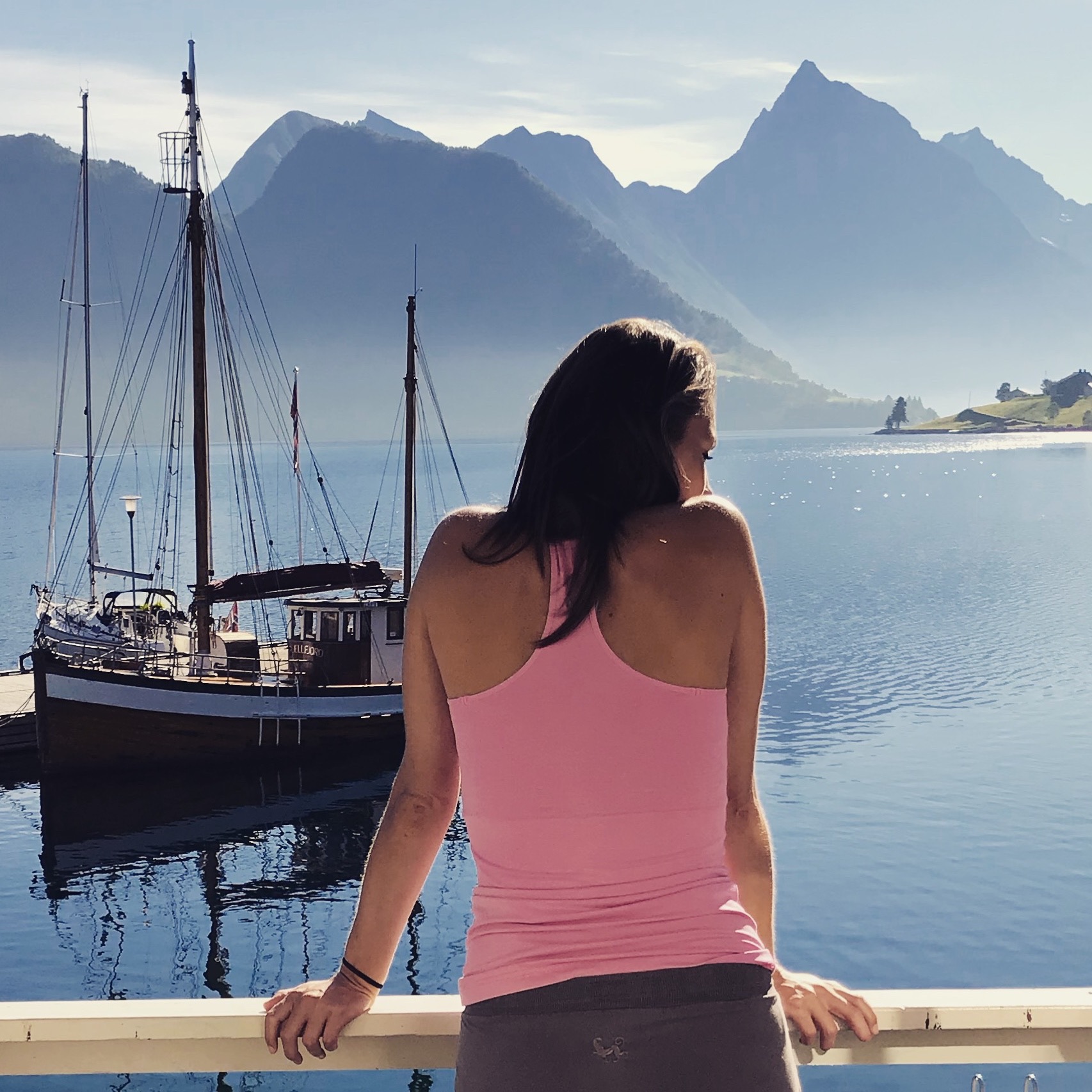 HIKING
There is a variety of trails just outside the hotel that we will be enjoying during this hiking retreat. There is a magnificent trail that starts just a short walk from the hotel, and we have maps available to support your explorations.
ARE YOU A VIDEOGRAPHER AND A YOGI?
We are always open to new collaborations, so let us know if you'd like to join the retreat and capture some beautiful moments!
TESTIMONIALS FROM PAST RETREATS IN THE NORWEGIAN FJORDS
I am happy and grateful that I have been blessed with such an amazing experience.

The location was breathtaking!

Loved the yoga sessions, truly enjoyed the meditation aspect of it and the adventure side as well.

We were a fantastic group and has an amazing instructor which made this experience even more special.

Elena was great at explaining the poses and breathing and the fact that we were building up the practice from one session to the next. Elena's calming and soothing voice with perfect teaching skills were truly inspiring.

Really enjoyed the meditation sessions, being read sections from the book. Loved the yoga, sauna and hiking.

Elena, you're truly an inspiring person. Loved your positive energy and beautiful aura. You are amazing and I'm so glad I attended this retreat!

I can't wait til I'm back for another Sparkling Yoga retreat. Will totally recommend it to all the people I know.

I have truly enjoyed this. Thank you!!
Everything adapted to be perfect, as always!

After this, I am inspired to book my fourth Yoga retreat with you! Thank you for everything Elena!
I loved the pace and attention to tailor program to the group - loved the added hands-on adjustments which will improve my practice at home. I enjoyed the quality of your teaching and unique locations. I felt spoilt in my second floor view overlooking the beautiful fjords.

I would not hesitate booking another retreat with Sparkling Yoga. I follow your CDs at home and enjoy your guidance and calming voice.
The good thing about the teacher was her voice and encouraging words. I enjoyed the hike, the boat trip.

Thank you so much Elena & Maria for giving so much of yourselves to helping me grow. I feel I am stronger and it is a journey I will continue to work on.

Thank you for being so open.
Dear Elena, thank you very much for creating such a nice retreat in Norway. I know and can only imagine how much love you put into to it to create such a beautiful and magical experience!

Thankful for this retreat from the bottom of my heart.

Practical feedback: great yoga classes and level for all participants, gradually building step by step was top!

I enjoyed everything: the venue, room, nature, food, exercise. Wouldn't mind staying longer!!

Magical experience! Great classes no matter which level in yoga you have reached. I enjoyed everything: the location, venue, room, food, and exercising! I am feeling thankful for this retreat from the bottom of my heart.
The teachers had wonderful adaptation to participant's needs. Could not imagine any better! Mind body balance was perfect. Keep going!
Both teachers were very clear, patient, well-paced - but firm! The natural environment was fantastic. The staff was very professional, food was excellent.
The teachers were creative, they encouraged, challenged, looked after. I enjoyed the physical practice. The staff was very helpful, room lovely! It's an eye opening experience, I made memories, learned a lot & had so much fun.

Vibes & energy created by the teachers, location, group & yoga was so positive... Finally having 2 teachers was very special, felt looked after and made practice very unique.

Full of gratitude.