ONCE IN A LIFETIME YOGA AND ADVENTURE RETREAT IN NEW ZEALAND
Once In a Lifetime: Ultimate Yoga Retreat and Adventure in New Zealand
A note from Elena
This retreat is a special treat for a very small group of people, and if you have this link, you have probably been personally invited by Elena.
This yoga retreat features a very exclusive experience of yoga immersion with a very private group of max 8 participants. It is taking place in a large private property located between the lakes Wanaka and Hawea in Central Otago region of New Zealand's scenic South Island. Scouted by Elena and Maria and inspected in person, the stunning property boasts the best views in the region, overlooking the snow-capped New Zealand Alps and crystal clear lake Hawea.
A very intimate setting of the property on a mountain and surrounded by a forest guarantees complete privacy of the group throughout the retreat. The place is set in a very peaceful and quiet natural environment and features a large living space for indoor yoga sessions as well as extensive lawn area for outdoor classes. Delicious vegetarian meals are prepared by a private live-in wholistic chef from Australia - nutritious and wholesome food is a big part of this retreat's experience.
In addition to a yoga retreat programme, the participants of this retreat will have a possibility to book extraordinary nature activities in-between the yoga sessions. The list of activities includes self-flying a small plane over the breathtaking landscapes of Central Otago, a trip to Milford Sound (fly-sail-fly), world class hikes in pristine mountains of the region where we are staying, glacier explorations, night sky tour to the observatory and many others.
YOGA
This retreat is open to intermediate and experienced yoga practitioners. During this yoga retreat, you will have an opportunity to explore a variety of approaches to hatha yoga, from elemental vinyasa flow based on Ayurveda to peaceful hatha with a therapeutic or restorative quality. Some of the sessions may include the elements of yin yoga, myofascial release, pranayama and meditation. A part of the programme is yoga nidra (yoga sleep) meditation which has an extremely restful and restorative effect. All sessions will be adapted to the group and modifications of the poses will be offered to cater for all participants and to ensure that everyone is receiving the benefits of the practice and the individualised attention.
We will be practicing outdoors as much as weather conditions permit, and for cooler days we will be using our large living room area with a fireplace, large windows and spectacular views.
TEACHER
The retreat is lead by Elena Mironov, the founder of Sparkling Yoga Retreats. Elena is an experienced yoga and meditation teacher as well as teachers' educator, with a strong background in both technical, therapeutic and energetic aspects of yoga and meditation, over 14 years of teaching experience and a degree in psychology.
Read more about the teacher by clicking here.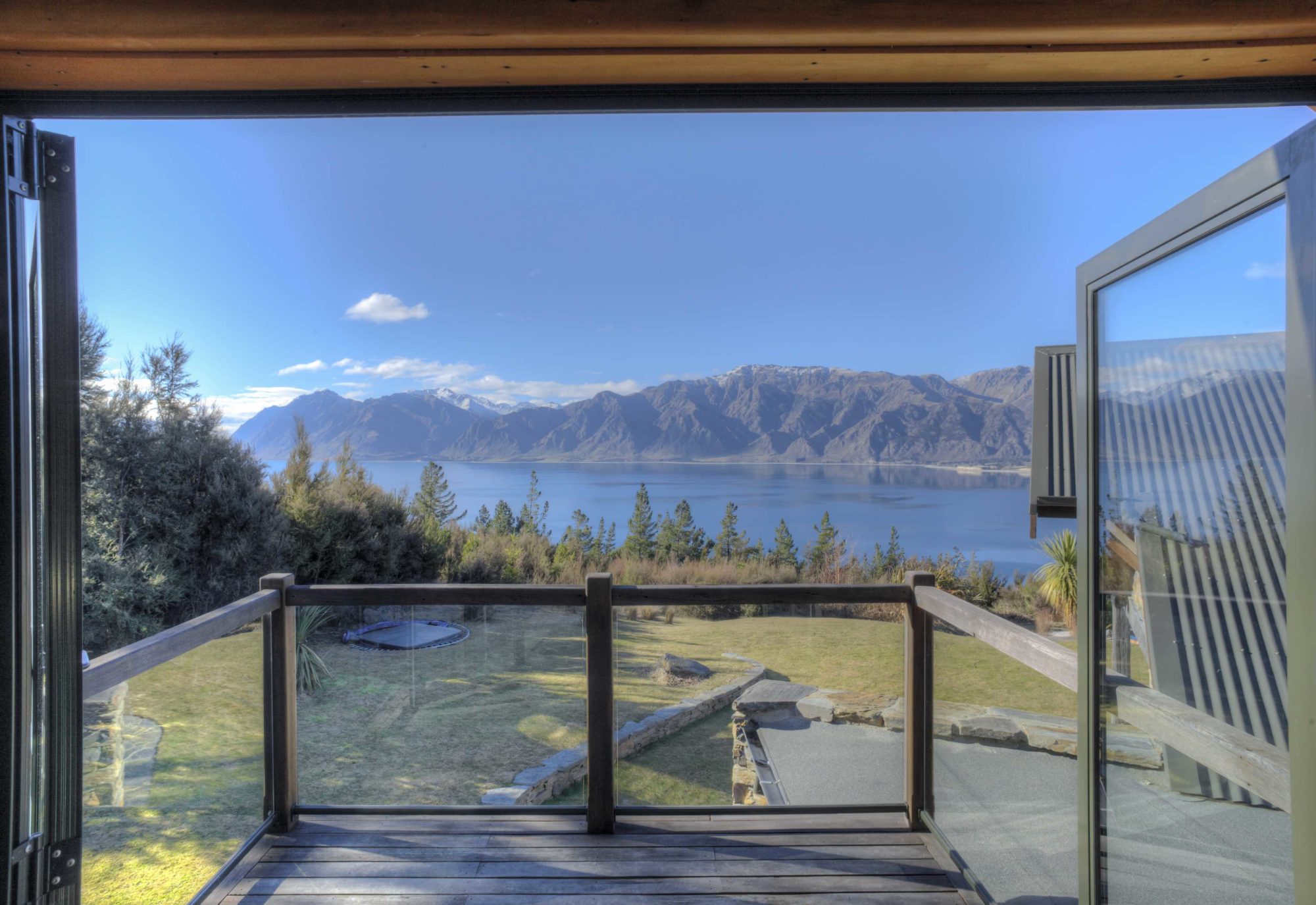 MEALS
Our retreat will be catered for by Sayaka Treeve - a Japanese-Australian wholistic chef, wellness expert and retreat leader from Melbourne. Sayaka specialises in running retreats where food is regarded just as highly as yoga practice for its healing qualities. Sayaka will prepare brunches and dinners throughout the retreat and will prioritise cuisine filled with taste and flavour and based on freshest local produce. In addition to that, wholesome snacks will be available throughout the day, and we guarantee that no-one will be hungry! Sayaka will also spoil us with healthy and extremely delicious desserts.
The signature cuisine features an experience of taste, healthy and nutritious living foods and truly a feast for the senses!
Included in this retreat are abundant brunches and dinners as well as snacks available during the day.
The menu of the retreat is vegetarian. Most special menus can be catered for - please let us know in advance about your dietary requirements.
TYPICAL DAY
7.30-9.00 Morning yoga + meditation
9.00-10.30 Brunch
10.30-16.00 Flying, hiking, enjoying our outdoor hot tub with a view, private yoga classes, rest, self-practice
16.00-18.00 Afternoon yoga + meditation
18.00-20.00 Dinner
WHAT IS INCLUDED
5-night/6-day stay at our beautiful luxury private residence 

generous healthy brunches, dinners and healthy snacks during the day prepared on-site by our private chef 

all yoga + meditation classes with the group, twice daily

the exclusive use of the property reserved for our group only
HIKING
There is a variety of trails just outside the property as we are surrounded by the forests. There are even more outstanding hiking trails close to the lake Hawea, lake Wanaka and within a short driving distance from both lakes. We will be happy to give you advice about the trails we have already explored and provide resources to help you plan your nature escapades.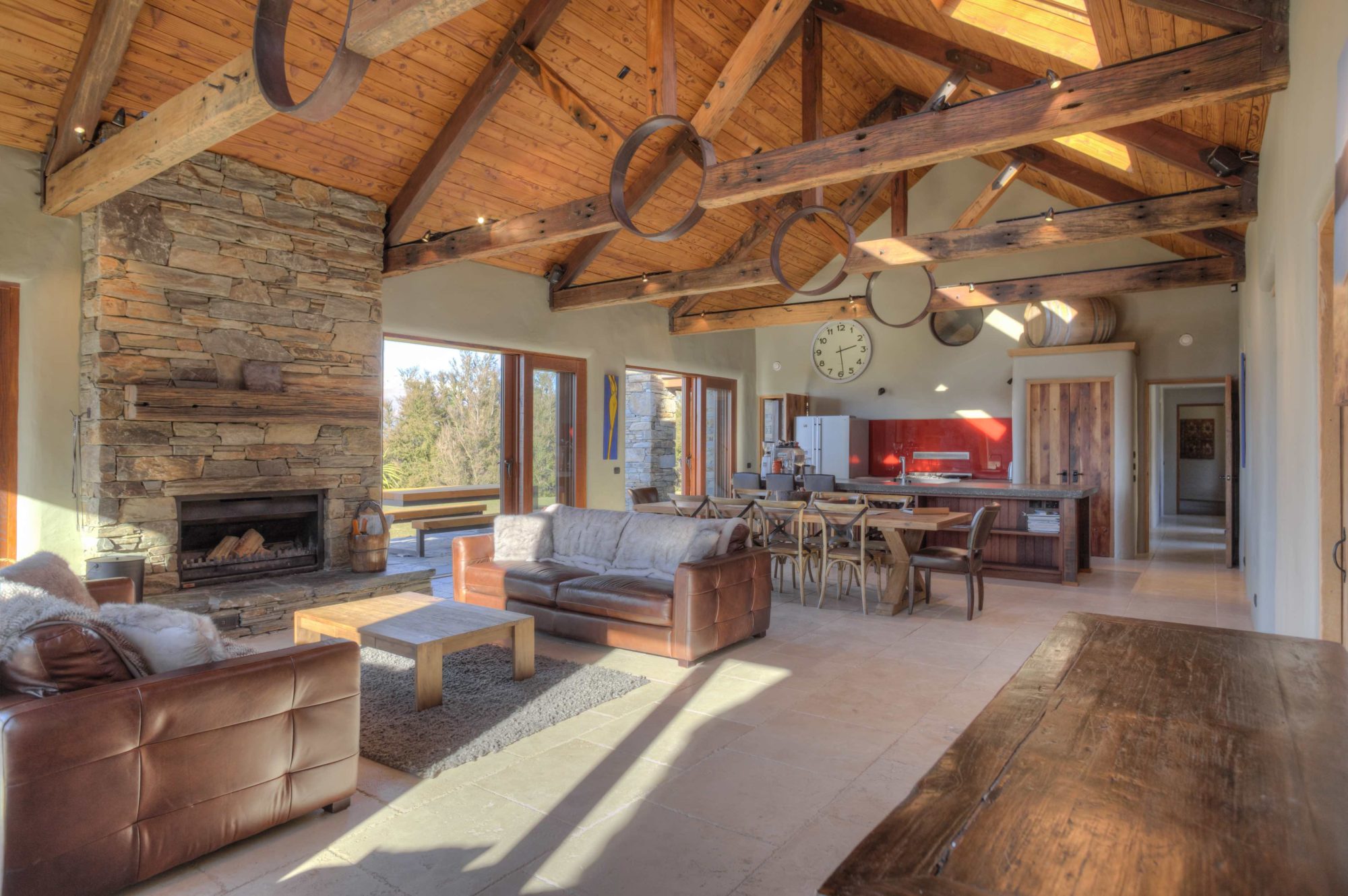 GETTING THERE
The location is about 1-hours driving distance from Queenstown Airport. The public transport connections are not ideal, so if possible, we recommend renting a car. Further instructions will be sent out upon registration.
WEATHER
In the second half of December, the weather in the Central Otago region is typically very pleasantly warm and sunny, which is conducive for outdoor explorations and enjoying the beautiful landscapes on your adventures. The temperature is typically 17-25C during the day, and cool in the evening.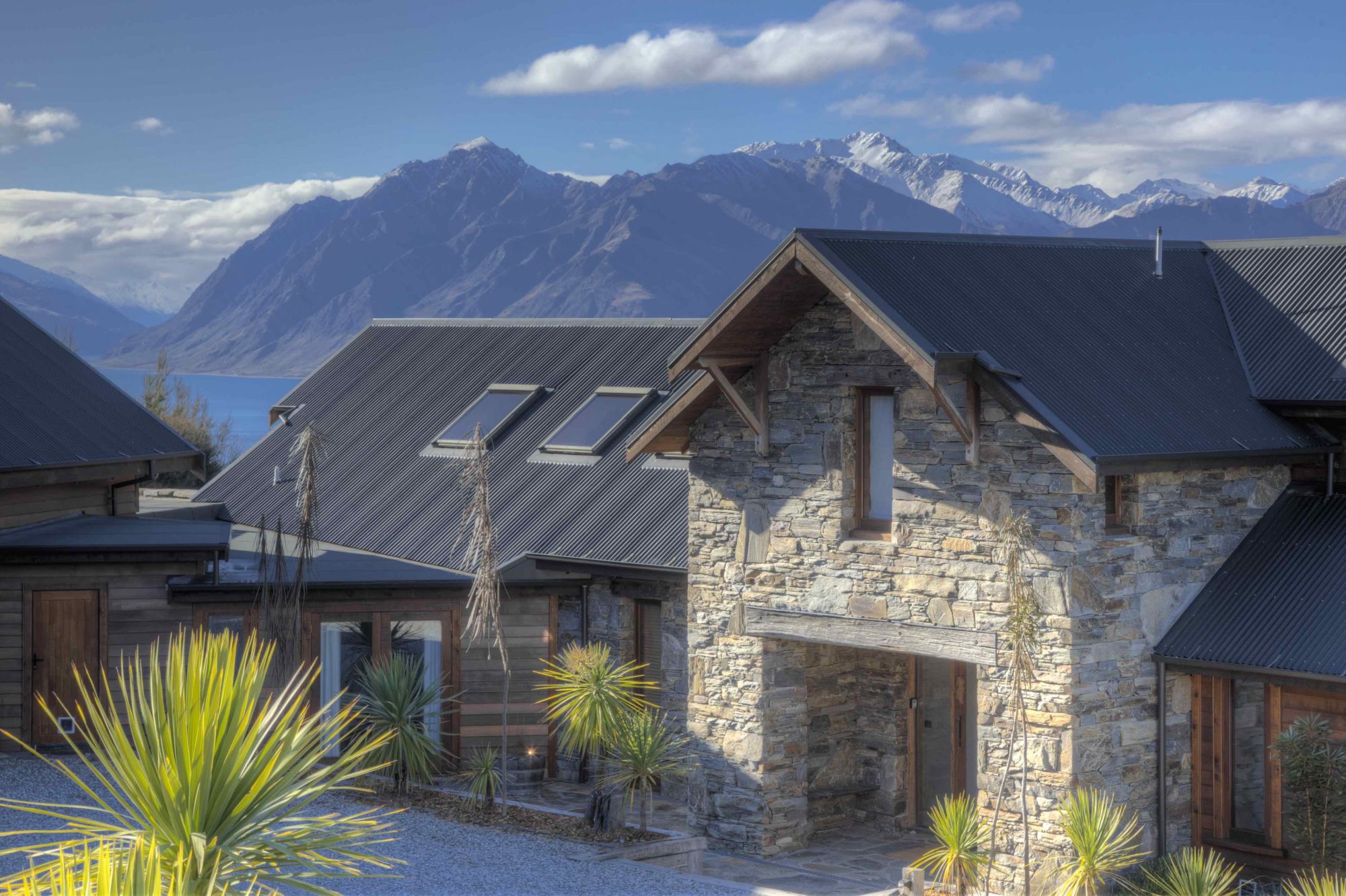 ACCOMMODATION
The retreat is a homey cosy gorgeous place with lots of space inside and outside to host a yoga retreat group. The place is really amazing, and here are some of the comments of the guests who have stayed there before:
"Every moment I spend here is like a beautiful dream come true"
"A fantastic location and incredibly well designed house to relax in solitude, enjoy the scenery or chat with friends in front of the fire. I will be back"
"This amazing house took our breath away. The view was beyond description and the privacy and seclusion was a wonderful place for a get away with a group of old friends. We just loved the magnificent living areas and stylish kitchen"
"Thank you for a spectacular stay! What a fabulous conclusion to our NZ holiday. The house is amazing, such incredible craftsmanship. What a pleasurable stay it has been. The view is simply magical, unsurpassed. We would love to come back one day & experience the house & views in summer too"
"We arrived to an impressive home with spectacular views. The property exceeded our expectations and we were very impressed with the craftsmanship and impressive features of the home"
"OH WOW! What an incredible winter getaway. This is the most amazing house I have ever seen. It looked amazing in the pictures and I can't believe it was even more incredible in real life. What an experience! There are no words to describe the view. It's simply majestic. We enjoyed everything so much. Watching stars and witnessing the most amazing shooting star I've ever seen, from the comfort of the alpine hot tub. Thank you for giving us the chance to stay at the most impressive holiday house ever"
"Not many places have the power to leave you in absolute awe and almost speechless but this place definitely did just that! Everything about the house was beyond expectation. From the sheer size of it, to the stunning architecture blended perfectly with natural elements that puts you at ease as soon as you come through the doors, and the view! My, my, my that view! Could it be any more perfect?  Will come back one day to relive the magic!"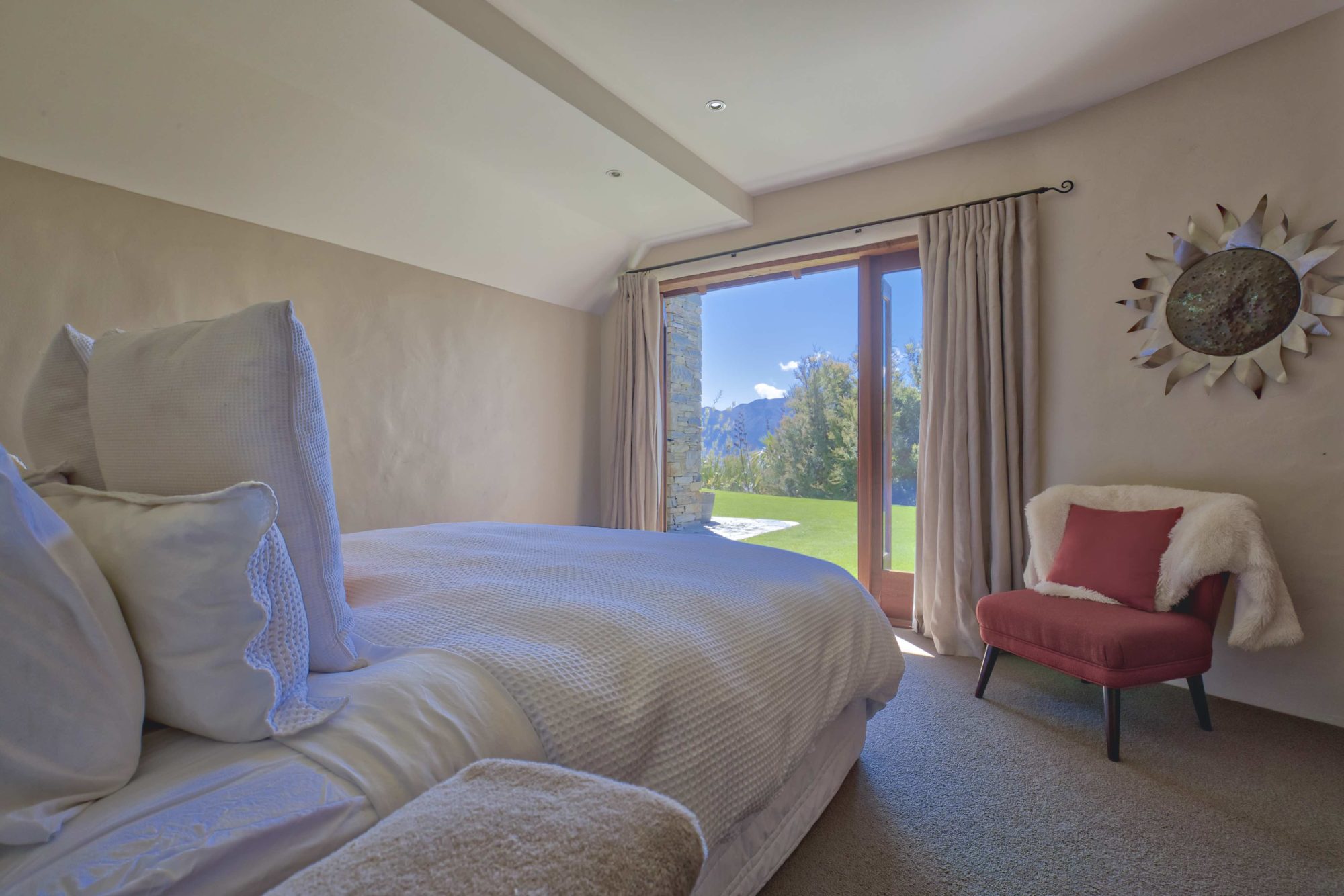 "Hard to imagine a better place to recharge the mind, body and spirit. Don't miss the starry sky at night – pure magic"
"This home is truly a world-class destination. It is worth every penny. The views were panoramic and always changing. The architecture, layout, furnishings-down to the last spoon…was of the highest quality. If you want a location near Wanaka or even Queenstown with spectacular views, plenty of room, and luxury details you'd find in Architectural Digest, this is the vacation spot for you"
One of the bedrooms has a large bed and en-suite private bathroom which makes it suitable for 2 close friends or a couple traveling together, and other 3 bedrooms have 2 bathrooms to share between them. All bedrooms are available for twin/double occupancy only due to the small capacity of the retreat.
OUTDOOR HOT TUB
The stunning exterior of the hotel includes a heated outdoor tub with the uninterrupted lake views which is available for the group throughout the retreat. Around the tub is a sunbathing and relaxation area, and vast green spaces that overlook the valley and woods.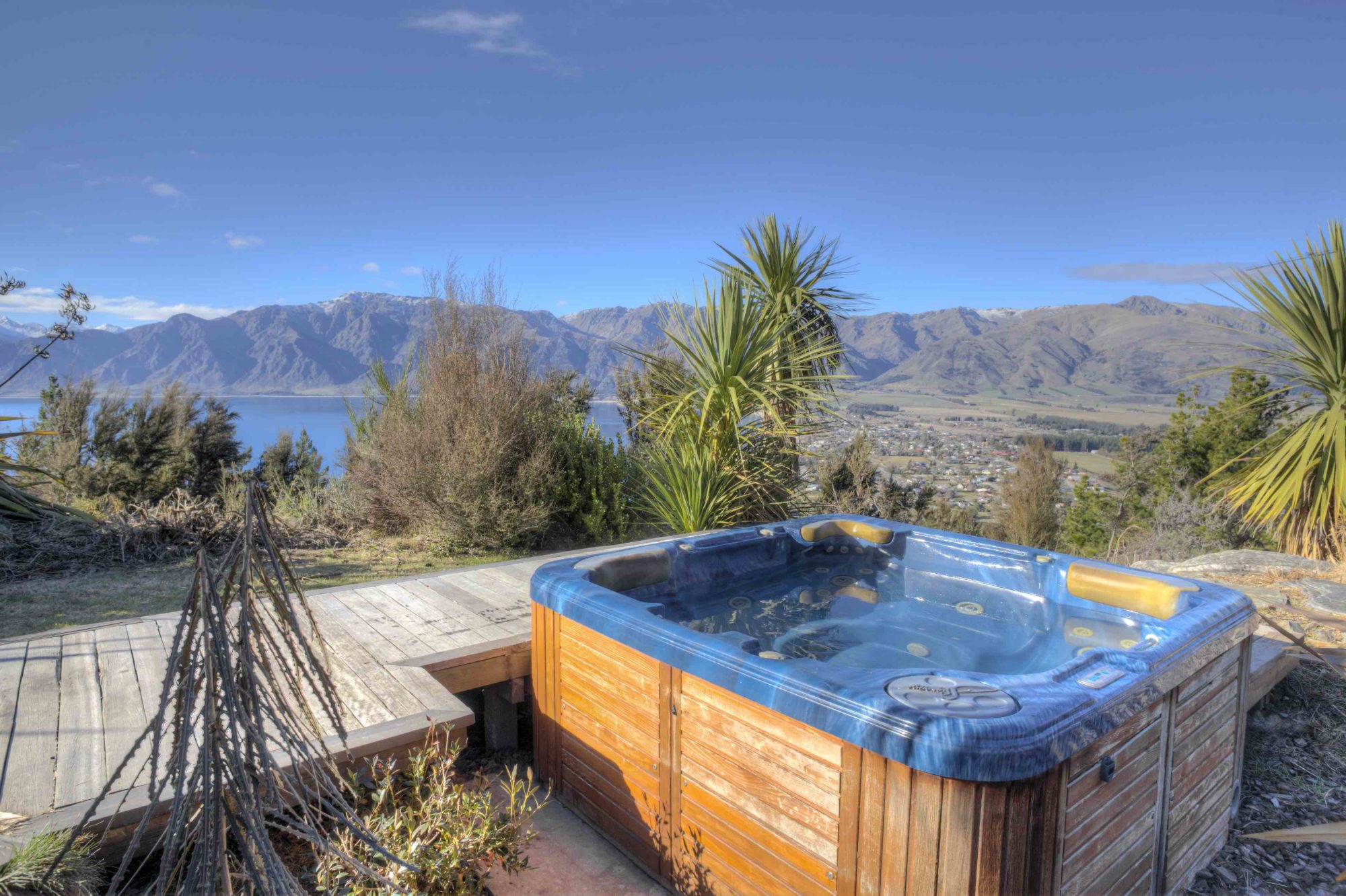 WHEN TO ARRIVE AND DEPART
The best time to land would be 16th or 17th of December unless you are planning to travel around NZ before the retreat. The best airport to land in is Queenstown, and we recommend renting a car if possible. It takes just over an hour to drive from Queenstown airport to the property.
The programme starts in the evening on the 17th of December.
The best time to depart is 11am on the 22nd of December.
TESTIMONIALS FROM PAST RETREATS
Elena cultivated a beautiful mix of people in a stunningly beautiful countryside forest. The practice sessions were challenging while accommodating many different levels of ability, from beginners to fellow teachers. The retreat center was charming, accommodating, and respectful of our collective mindfulness. Elena's ability to connect individually with each participant made this unlike any retreat to which I've ever been. Would go back in a heartbeat!
I absolutely love Elena's teaching, beautiful soul and peaceful spirit! Lovely also to try Ben's teaching - you complement one another wonderfully! You have to do it again! The sauna and lake evening was amazing! Beautiful retreat centre, loved the calmness and simplicity of the place that holds you but yet gives you freedom to explore. Gorgeous food and staff.
Elena, you are a joy to have as a teacher. I love the combination of yoga and your music. I liked that Ben was so attentive to everyones need, adjusting our postures along the way. Very friendly staff. AMAZING food. (Almost) makes me want to become a vegetarian. I loved the meditation sanctuary.
I enjoyed the peace and quiet. The yoga led by Elena was amazing. Best experience of my life. The good thing about the teacher was patience, motivation, willingness to explain and properly show how the postures are achieved. The planning and dedication is absolutely perfect. I could not fault it. Staff were amazing. Retreat was perfectly located. Food was nutritious and wholesome. Room was simple and perfect. Everything was perfect. I loved it so much that I will be back next year and I will even bring my friends. Elena is an angel - calming and wonderful.
Both Elena and Ben are happy and humble and nice to be with. And teaching in a way that is easy to understand even when English is not my first language.
Dear Elena and Ben. Thank you for a lovely retreat and for everything. You are two different beautiful persons who guided me through yoga positions in two different ways. I really liked that there was an opportunity to that. I learned how to used different positions in different parts of life. You've been guided with love, joy and simplicity. All good to you.