INSPIRATION FOR THE EXPERIENCED
BE INSPIRED: Morocco Yoga and Meditation Retreat for Experienced Practitioners and Yoga Teachers
Registration open!
Hidden away from Marrakech and located in a traditional Moroccan Berber village right in the desert overlooking the majestic Atlas Mountains you'll find our retreat centre that will provide a wonderful environment in which to evolve in your yoga and meditation practice. In-between the sessions, our stunning retreat settings will redefine your idea of relaxation.
A multitude of corridors and courtyard paths lead to authentically furnished, comfortable and spacious rooms. You'll enjoy pools, secret terraces, charming gardens and a myriad of secluded corners in which to relax, restore and recharge. After sunset, enjoy traditional Moroccan cuisine in the restaurant or on a terrace, with the snow-capped Atlas Mountains and distant lights of Marrakech as your backdrop.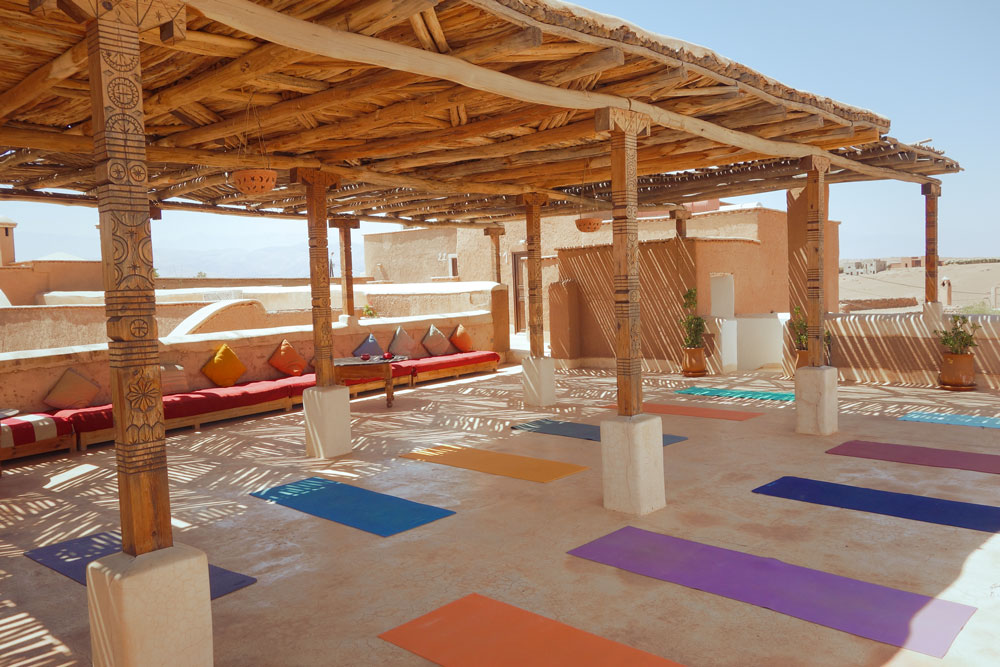 Yoga
The yoga classes will be led by an experienced yoga teacher Lauren Stokes. You can read more about Lauren here.
The programme includes 2 classes a day, typically a morning class from 7.30-9.00 and an evening asana class followed by an optional meditation self-practice. 
This retreat is designed with dedicated experienced practitioners and yoga teachers in mind, so you will be inspired to evolve through your practice both in asana, breathing techniques and meditation. It is essential that you have a regular practice if you would like to join this retreat.
ROOMS
The rooms at our centre are spacious and very cosy. They are built in a traditional Berber style using fortified clay (pisé) and eucalyptus tree, featuring hand-woven textiles created by our resident textile master on the premises. All the rooms have a fireplace.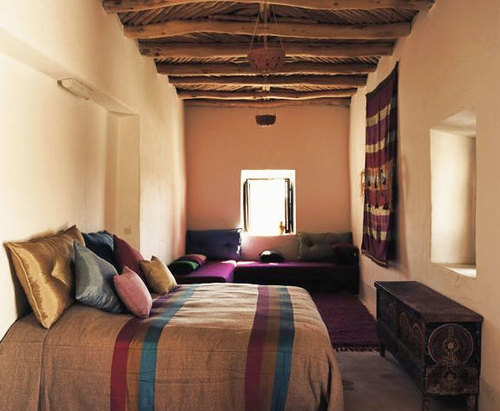 POOLS AND GARDENS
With two pools (one of them heated) and a wealth of beautiful plants and aromas, the lush gardens are yours to enjoy.
Mazy paths lined with banana palms and blossoming orange trees lead you around the beautiful gardens. Roses and hibiscus bring an intoxicating delicate aroma and add splashes of colour to the garden walls. The terrace is soaked in sunlight and offers stunning views of the Atlas Mountains. This is also where you can enjoy the first of the two pools – perfect for cooling off with a quick dip, or stretching your legs with a relaxing swim.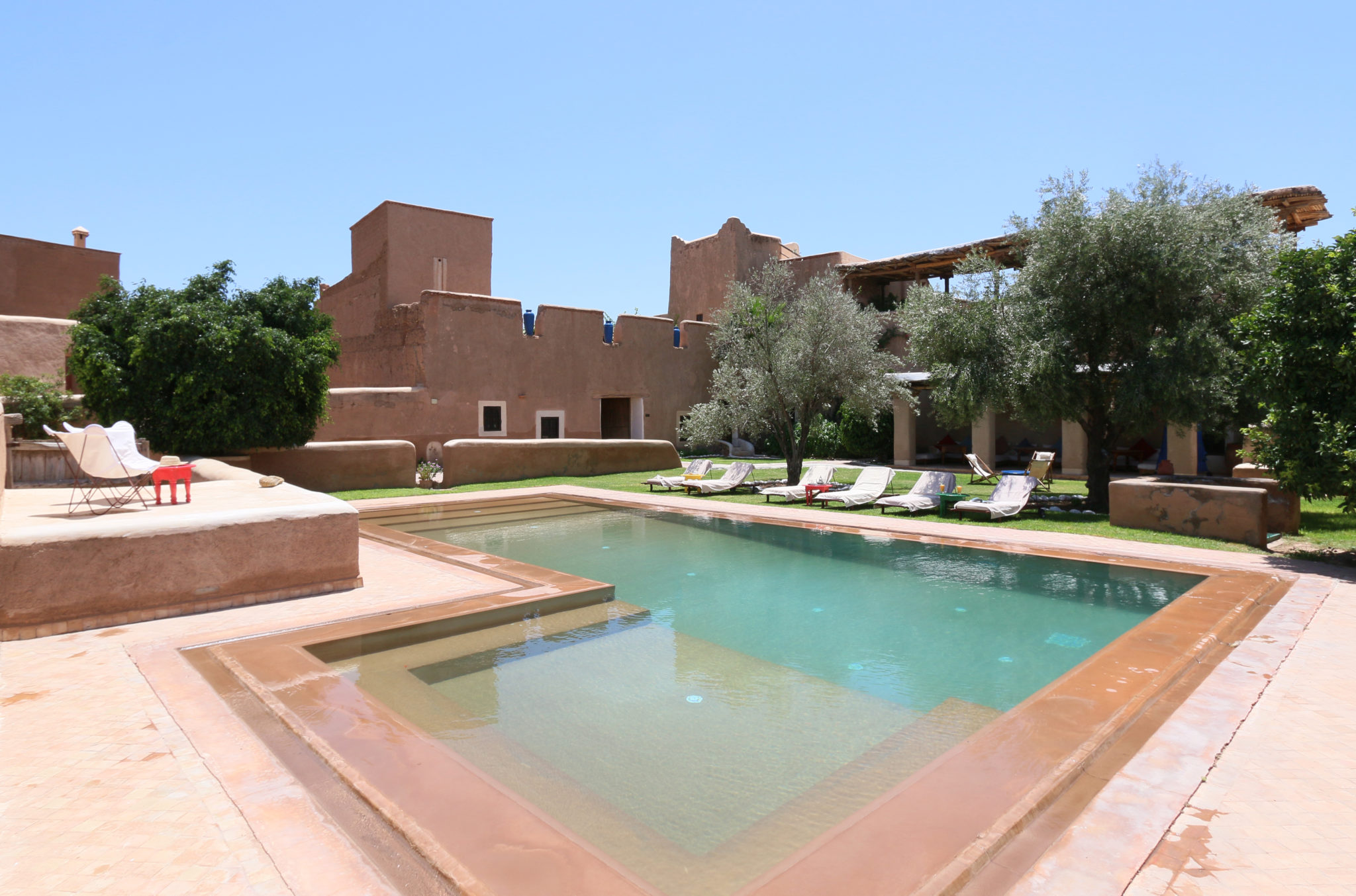 FOOD
Morocco's cultural influences make for extremely diverse cuisine and we will be enjoying a rich palette of flavours in the vegetarian meals that we will be served throughout the retreat. Breakfast will be served right after yoga, lunch is a rich salad buffet by the pool and 3-course dinner will be offered at a cosy restaurant at our centre.
TYPICAL DAY
7.30-9.00 morning yoga practice
9.00-10.00 breakfast
10:00-12:00 time for rest, nap, pool, walks in the desert, spa treatments 
12:00-12:30 guided meditation or pranayama practice
12:30-14.00 lunch buffet
14:00-17.30 time for rest, nap, pool, walks in the desert, spa treatments 
17.30-19.00 evening yoga and/or meditation practice
19.00-19.30 optional non-guided meditation by the fireplace in the yoga shala
19.30-21.00 dinner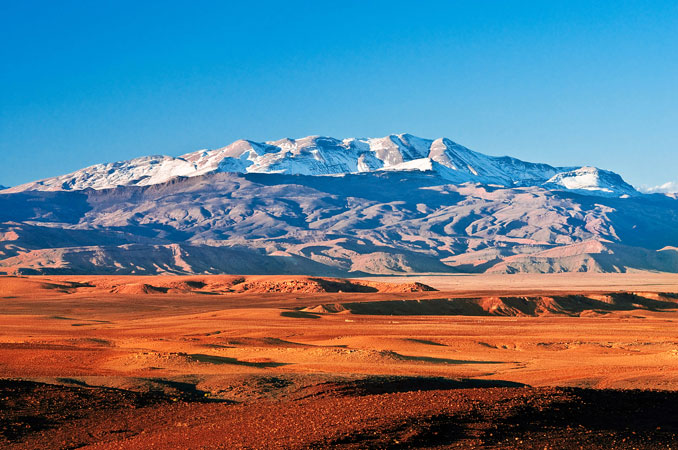 SPA
A visit to the hammam is a Moroccan tradition, and you may notice signs for the hammams within the medina of Marrakech. Our hammam pool and steam bath is for guests only, giving you the space and privacy in which to relax. The massage and beauty therapist at our centre will also be on hand to provide a range of exfoliation and massage treatments using authentic Moroccan skincare products that contain indigenous herbs, fruits and oils.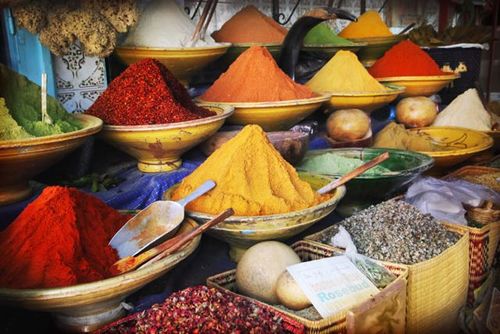 MARRAKECH AND ATLAS MOUNTAINS
The vibrant city of Marrakech is only a 30-minute drive from our centre and on one of the days you will have an opportunity to take the complimentary shuttle minibus to the city centre and spend late morning and early afternoon exploring the colourful markets and return to the retreat centre before the evening class.
Later that week, we will also dedicate a day to an optional trip to the majestic Atlas Mountains with the local guide. The trip to Atlas Mountains will include a 2-hour transfer each way and a 4-4.5 hour walk up in the mountains and will incur an extra fee which will depend on the number of guests joining.
On that day, we only have the led morning yoga class and an optional evening self practice. You can also choose to skip the trip and relax at the retreat centre instead.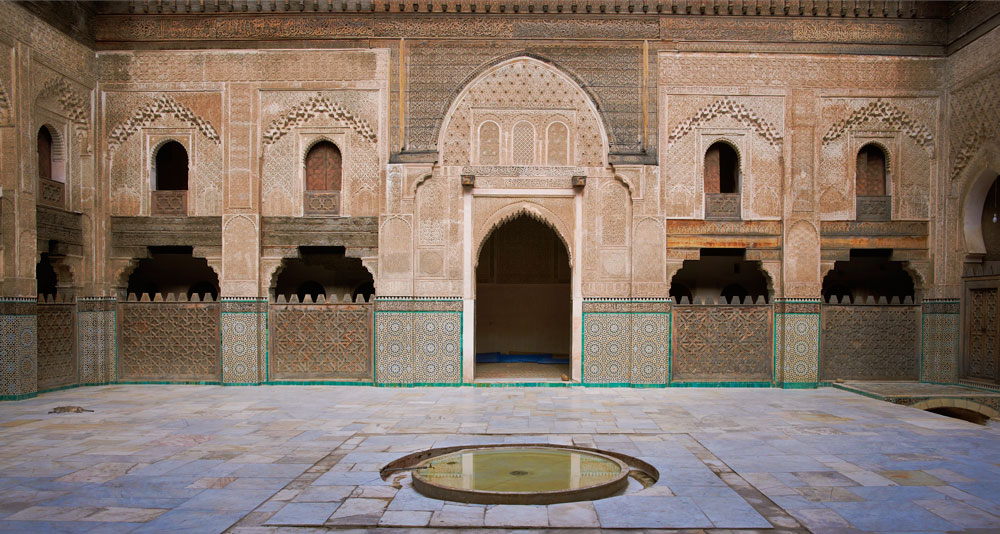 WEATHER
You will discover that during the month of February the daytime temperature is quite warm and it's cold at night. So during the day we will be enjoying the sunshine and in the evenings - the fireplace.
TRAVEL
The centre is 30-minute drive from the airport. We can help organise your transport to and from the airport.
It would be best to arrive on the 24th of February during the day or in the evening and leave after lunch on the 3rd of March (unless you prefer to give yourself more time to explore Morocco on your own before or after the retreat).
TESTIMONIALS FROM PAST RETREATS
This experience exceeded any and all expectations. The mental clarity, energy, friendships, and strength I'm taking home with me are beyond words. Thank you for enriching my life and the lives of so many wonderful individuals.
Thank you for an absolutely great retreat. Loved it! Elena, you are a good presenter, very skilled, lovable, kind, empathetic. I liked everything about it: the kindness and helpfulness of the staff, having a "personal" driver, the view, the surroundings and the food.
I enjoyed the yoga sessions, the sun, being in Morocco, so basically everything! The great great classes and Elena's great knowledge about yoga. I learned a lot - Thank YOU! Beautiful place and very very nice and helpful staff. Thank you Elena for a wonderful experience.
Very well planned and organised throughout. Extremely well taught. Elena's knowledge, passion, caring - lots of attention, very personal and nice - caring. Completely excellent!! I would love to come back - 10 days would be perfect.
This was am amazing experience for me. It was my first yoga retreat and I didn't know what to expect. It turned out to be one of the best weeks of my life - beautiful, challenging and so memorable.
The combo of Elena and Lauren was perfect - different styles but very complimentary. I'm taking home confidence that I can keep up my practice.
The location was wonderful - staff was great and food was amazing. The yoga room was beautiful!
The people participating in the retreat and the teachers are such wonderful people and I feel very grateful to have been able to meet them.
Thank you Elena for all your hard work to make this such an incredible experience!
Elena taught me so much, I feel like I have come so far! Staff was wonderful, prompt and thorough. The building here is absolutely beautiful and amazing. So peaceful. I loved this retreat. I overcome my chronic insomnia. It was lovely and well needed.
I enjoy the diversity very much. Also that you are very good at building up the difficulty. I liked also that we were supposed to read a book on yoga. You instruct everything very well and it is easy to follow. I like your retreats very much and I hope you continue to organise them.
I enjoyed the diversity of the classes, the breathing techniques, explanations regarding inner organs. Elena's instructions, kindness, voice, music. Always well prepared! Excellent.